10/24/2003 - 6:02 a.m.
Trick or Freak - the last thing you want to find on your doorstep on Halloween
Here are a few things that I would not like to see at my house on Halloween.
Pictures open in new window)
New twist on "bag of poo"
David Blaine
Girls beware
Bad Boss
Agent Smith
It wasn't me!
What's last thing you want to find on your doorstep on Halloween?


2
---
10/24/2003 - 5:08 a.m.
Vampire babies.
A one-year-old boy has been bitten 30 times by a group of more than a dozen other babies at a nursery in Croatia. Link to read more.
---
10/23/2003 - 9:28 a.m.
Halloween Contest
I need your ideas or suggestions for a Halloween costume to wear this year. Oh I forgot to mention that the winner will receive a picture of a Brand New Porsche 911 Carrera convertible, that's right a picture. Click here to see prize. So have fun,

4
---
10/23/2003 - 6:46 a.m.
Here's some Halloween Costumes for you
Halloween is almost here; time to start work on that Tron costume. IF the Tron costume is to much, how about downloading a Geek-O-Ween costume, that's right a Computer Geek Halloween Costume.
---
10/22/2003 - 12:09 p.m.
Dare Devil Barrel rentals
Dare Devil Barrel rentals expects business to rise do to the man, who has not been identified, who survived a drop over the falls without any life jacket or flotation device on Tuesday. Link to story. Dare Devil Barrel rentals opened for business back in the early 70's when a stunt by a Canadian carnival stuntman named "Evil Weasel" went over the Horseshoe Falls to promote his show. Business at Dare Devil Barrel rentals went down the tube during the mid 70's when laws were passed to make going down the falls illegal.
Please visit www.DareDevilBarrels.com (fake) website for more information about renting barrels.
---
10/22/2003 - 5:07 a.m.
Now you can get married over the Internet, Same sex marriage allowed!
So, you adore your pet, consult him when channel switching and give him fresh fish every Sunday. But if you really love him and you're in this for life, isn't it time you married your pet? That's right you can marry your pet, if you would like to marry your pet go to MarryYourPet.Com.
Checkout some of these cute couples.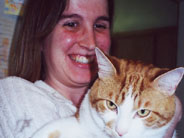 Ralph and Moody : Married 09/29/03 (They met at the Vet)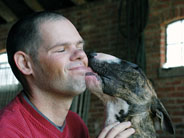 Sonja and Boss : Married 10/8/03 (I married him because he wanted to leave me)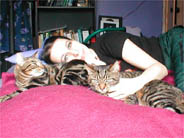 Peter and Blob : Married 10/8/03 (She's so much more relaxed then I am)

5
---
10/20/2003 - 5:43 a.m.
BUY WADDED UP PAPER NOW!!!!
From the what's next department, Checkout this product. I wonder how many people actually bought or will buy this?
If you really feel the need to buy one, I'll send you one for half off their price. Just leave your credit card number or checking account number in the comments. Along with your name, address, and email address. That way the rest of the world can take pleasure in your stupidity.
I enjoyed the FAQ's at the bottom of the page.
Give me your ideas of what I can sell on this site, be creative.
---
10/20/2003 - 5:07 a.m.
The Blair Witch (Gardening) Project

---
Last Week Nonsense - This Week Nonsense