04/18/2004 - 7:37 a.m.
The Writings on the Stall, an online repository of writings found on restroom walls
The Writings on the Stall, a new compendium of bathroom graffiti
---
04/17/2004 - 5:50 a.m.
What do those signs say? #1




17
---
04/16/2004 - 6:44 a.m.
peep plays
romeo and juliet
unreal peep
the blair peep project
drunk alyssa & mary
I did not know that peeps were so cool.
7
---
04/16/2004 - 6:31 a.m.
What do you get when you cross the Lord of the Rings and peeps?
You get Lord of the Peeps.
Link provided by: Jessie
---
04/16/2004 - 6:29 a.m.
LOTR
Lord of the Rings - slightly condensed.
5
---
04/16/2004 - 6:17 a.m.
THE PEEPS CHALLENGE!
If you're going to brag that you could eat 100 peeps at a sitting, don't do it the day after Easter when they're on sale.
14
---
04/15/2004 - 5:03 a.m.
Todayís post


11
---
04/14/2004 - 5:57 a.m.
The Home page of Peter Pan
After seeing this guy's website, I will not let Mason watch Peter Pan again.

13
---
04/14/2004 - 5:35 a.m.
The Men Commandments
The Men Commandments - Argument with these rules instantly revokes your identity as a man. Youíre no longer a man and youíre out of the man club.
6
---
04/14/2004 - 5:16 a.m.
Underpant toast
Surely this Impresses girls, We all know that girls love pants and all the paraphernalia that goes with them so Underpant toast has to be a winner, Only the cool (and/or hungry) ones, dude.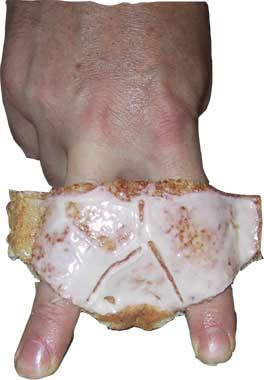 8
---
04/13/2004 - 6:03 a.m.
Daddy, why did we invade Iraq?
Category: uproarious - posted by: Bruce.
Daddy, why did we invade Iraq?
16
---
04/12/2004 - 11:42 a.m.
Little scrawny kid gets owned.
Ouch. another video. Kids having fun, atleast they are tryng to have fun.
7
---
04/12/2004 - 11:24 a.m.
Shame how little idiots actually know how to fight
Fight Club, Watch kids put on boxing gloves and beat themselves into submission. What happened to guarding your head?
13
---
Last Week Nonsense - This Week Nonsense